March 10, 2019
V+O actively participates in Delphi Economic Forum IV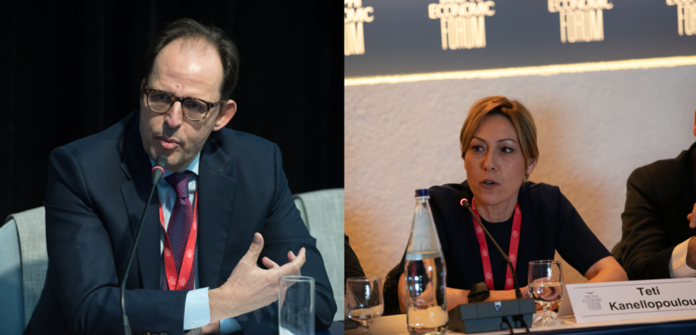 Delphi Economic Forum IV took place between 28th of February and 3rd of March 2019. Top international and local experts, such as Politicians, Academics, Business Executives, etc., have exchanged their views and opinions on various topics and key emerging trends evolving around this years' key theme "The Challenge of Inclusive Growth".
V+O has actively participated not only by supporting some of its key clients, but also by providing top-of-the-line insights upon pivotal issues in notable panels.
Our President, Mr. Thomas Varvitsiotis, participated in the highly interesting session "The Importance of FDI: Constraints and Potential". Within this context, Mr. Varvitsiotis elaborated on the need to change perception upon FDIs in our country and the necessary actions for this to materialize. These include a powerful political will on part of the State, a general social acceptance of the investments, creativity and flexibility when approaching new investments, a clear legislative framework for FDIs and the overall communication of the country and its appeal as an investment destination, both regionally and internationally. Concluding his speech, Mrs. Varvitsiotis noted that there is significant progress when it comes to the wider public opinion, as recent studies indicate that almost 83% of the Greek people view positively and encourage direct foreign investments.
In a different session, entitled "Crisis Communication Masterclass: The Anatomy of a Crisis", Mrs. Teti Kanellopoulou, CEO of V+O Greece gave insights on modern crisis management and how to effectively handle critical situations in a fast-paced digital environment, where information spreads rapidly and uncontrollably. Such a framework calls for quick and efficient actions and has created a need for a new approach that is both strategic and agile. Furthermore, Mrs. Kanellopoulou highlighted that communications professionals need to be well prepared and constantly alert, as the high speed of the dissemination of the information has resulted in brands and companies facing crisis more often than ever before.
You can further watch the discussion panels from this year's Delphi Economic Forum IV in the following links:
SESSION 72 - THE IMPORTANCE OF FDI: CONSTRAINTS AND POTENTIAL | DEF 2019:
https://www.youtube.com/watch?v=Vo7owrW5z58
SESSION 50 - CRISIS COMMUNICATION MASTERCLASS: THE ANATOMY OF A CRISIS | DEF 2019:
https://www.youtube.com/watch?v=xczlza9yhGI
‹ BACK