The HOME Project
V+O embraces the children of THE HOME PROJECT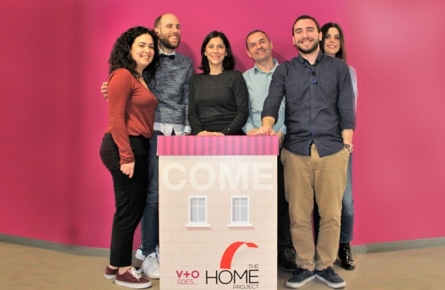 The multi-dimensional refugee crisis of these recent years has imposed a profound impact upon the lives of thousands of people, among them too many children. Many of these children are found in our country alone, without support and in absolute necessity, thus in need for our help more than anyone.
In this context, V + O GREECE implements a special corporate social responsibility program "embracing" the charitable organization The HOME Project, an initiative that provides security, support, protection, social inclusion and decent living conditions for children arriving in our country, due to the refugee and humanitarian crisis.
Supporting the children through the work of The HOME Project, V+O' s offer expands in three levels:
the provision of communication services to promote the work of The Home Project, through press releases, interviews, articles, creation of communication material and organization of events
the creation of V+O volunteer groups, that take on both the organizing of creative activities for the entertainment of the children staying in the organizations' hostels, as well as accompanying the children to external events or creative and educational activities outside their hostels
the monthly gathering of essential goods for the children of The Home Project, through the creation of special collection points for this purpose at the company's offices
April 2018

During this April, V+O volunteers accompanied 45 children and their escorts from HOME Projects' hostels to a special children's play of "Don Quixote" in a central Athens theatre. Furthermore, V+O volunteers visited the HOME Projects hostels and baked Easter cookies, using a traditional recipe that tasted heavenly. Both, the children and the volunteers, had loads of fun, kept smiling and laughing and enjoyed beautiful moments, radiating joy and gratitude.
sign up for our newsletter