October 22, 2020
New International Distinction For V+O Greece Double Win At Ipra Golden World Awards 2020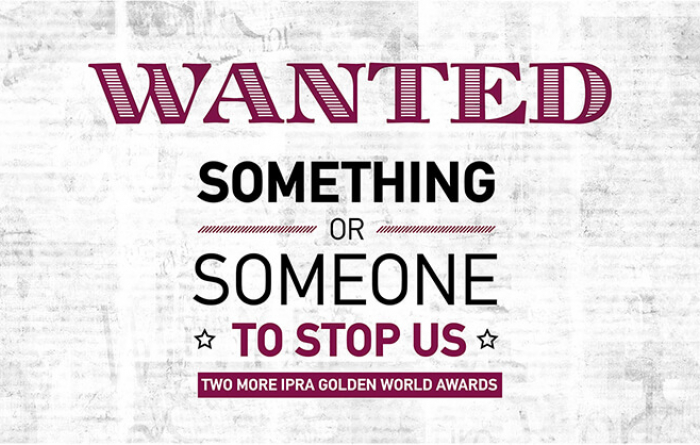 V+O COMMUNICATION, in the midst of the pandemic and despite the strong international competition, succeeded for another year to be distinguished in the institution of the IPRA Golden World Awards (GWA), the International Awards for Excellence for the PR industry organized annually by the International Public Relations Association (IPRA).
The two, new, international distinctions of V+O COMMUNICATION, accent the added value that the company bear, as well as the need to return to a new PR 'normality' through strategically and methodically designed actions and corporate communication programs.
With this year's, double, distinction, V+O COMMUNICATION is the only Greek PR agency that has won six (6) International Excellence Awards during the last years. V+O counts six (6) distinctions in total from 2014 till 2020, two (2) of which concern a double distinction (2018 and 2020).
The two (2) V+O projects that were awarded, this year, were selected based on their strategic planning, excellent and methodical implementation as well as their creativity.
The two awards were given for projects submitted in the categories 'Public Affairs' and 'Event Management', two categories in which V + O has excellent experience and know-how.
IPRA Golden World Award for Excellence (GWA) in the 'Public Affairs' category for a COCA-COLA project in Greece
IPRA Golden World Award for Excellence (GWA) in the category "Event Management" for the company PHARMATHEN and the Inauguration of the Pharmathen's New Long-Acting Injectables Plant, in Sapes, Rodopi.
Mrs. Teti Kanellopoulou, CEO of V+O Greece, commented in the context of the new double distinction: "In a fluid communication environment of high demands, our team has proved once again that strategic thinking, creativity in execution, experience and commitment to the result are ingredients of a recipe for success. A recipe that becomes even more important in difficult and ever-changing times, such as those we experience, where we all need flexibility and ingenuity every day to support our customers in the communication challenges they face. We are proud of our excellent team; whose work represented our country and managed to stand-out, once again, on the international PR podium. Our international distinctions are, for all of us, a reward for our quality work as well as a commitment that we will continue to work with passion and dedication to achieve even better results."
‹ BACK