ON RESIDENCE - The Revival of the Legendary Olympos Naoussa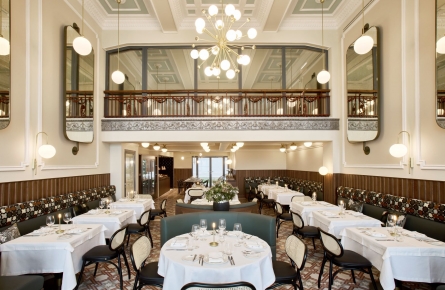 Challenge
The emblematic Olympos Naousa returned under the umbrella of ON Residence – the new boutique hotel of Grivalia Hospitality and TOR Hotel Group- that opened its doors in April 2022, redefining luxury hospitality in Northern Greece.
Using as key vehicle the revival of the historic restaurant Olympos Naousa, V+O proceeded to the implementation of a targeted communication plan to inform our key audiences on the much-anticipated project and build Grivalia Hospitality image and reputation as one of the leading investors in luxury projects in Greece
Project Scope
Design & successful implementation of a communication plan which included:
Press Trip: An experiential 1 day press trip, inviting selected journalists from all tier 1 National Media to travel to Thessaloniki and be the first ever to see and experience the reconstructed building.
Media Event: At the same day, we hosted a press conference at the historic Olympos Naousa, inviting Thessaloniki key editors as well. The event consisted of keynote speeches of executive members, private tours around the hotel's premises, and a delicious lunch at the restaurant's venue.
Content generation: After the event, relevant content was distributed to an extensive media list, including and useful information regarding the investment and beautiful photo material Academia engagement: We collaborated with the Architecture Department of AUTH, hosting exclusive student tours for 100 graduates to see first hand the historic building and its renovation
Our strategic approach was to create a communication strategy to build awareness around the project and to point out all aspects that make ON Residence unique and Grivalia Hospitality one of the most important investors in luxury hospitality field.
Our strategy was inspired by the uniqueness of the project delivered, its historic element and the emotional value it carries for all those who experienced it in the past. To this end we designed and implemented a press trip and a strong communications plan, focusing on the following pillars:
A.The renaissance of the historic Olympos Naoussa after 30 years
B.The operation of the new 5* boutique hotel and the return of the legendary Olympos Naousa restaurant
C.The significant investment of 20 million euros, by Grivalia Hospitality and TOR Hotel Group in Thessaloniki, reshaping the Greek luxury hospitality
Results
The renaissance of Olympos Naousa and the official communication of Grivalia Hospitality as a key investor in the country attracted wide interest of tier-1 media, achieving impressive publicity in print and online mediums, with 100% positive sentiment.
The news generated more than 200 publications in local and national media outlets
More than 300K media value
Total Reach over 10.6M.
sign up for our newsletter