Public: New purpose development: Internal Strategy & Communication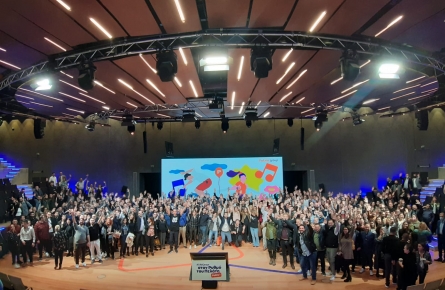 Challenge
Public entered in a new era of cataclysmic changes at all levels of its identity (strategy, image, services, operations, structure, etc.) with an objective to become the best and most customer-centric omnichannel retailer in Greece and Cyprus. The company aimed to formulate a new purpose, vision and mission that will represent the renewed entity and will enclose both the brand's identity and its' future aspirations. The company asked V+O to provide a proposal of collaboration for the development, implementation, and management of a purpose workshop.
Project Scope
To form the strategy V+O took under consideration many different challenges:
The diverse internal audience, the large amount of information, the merging two brands / companies (Public & Media Markt), the huge transformation in multiple levels and the competitive retail environment. With the objectives to develop Public's new purpose, mission, vision and values and align all involved parties, V+O proposed and implement the following strategy:
Understand the current situation, Public's long term business strategy and the wider retail environment (Greek & worldwide market),
bring to light the areas that Public could play significant role and be competitive,
work together with the client's team on those areas in order to build initial narratives / messaging for vision, mission & purpose,
Work on the final vision/ mission & purpose
Inform, Educate and Engage all internal audiences for the new vision / mission and purpose.
Results
Together with the client we create a strong purpose for a Love Brand, such as Public.
We brought into life the full potential of the brand through a new human & customer centric purpose and fresh, modern & leading-edge values that embraced by the internal teams.
Now, Public's internal & external communication (initiatives & activations) has the 'fleur' of the new purpose. But the most important is that the business strategy follows and based on the new purpose.
sign up for our newsletter