Acropolis Lighting Infrastructure Project,Onassis Foundation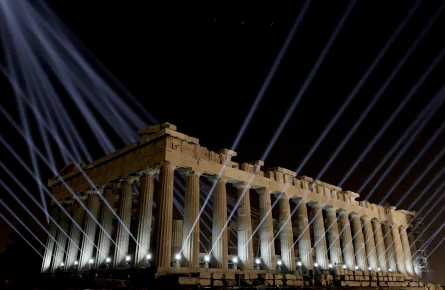 Challenge
The Greek Ministry of Culture and Sports identified the need to upgrade the lighting infrastructure of the Acropolis of Athens, one of the most important monuments of Western Civilization and a symbol of democracy, across the world. To this end, the Onassis Foundation, always true to its purpose for improving access to culture and democracy, undertook the strategic decision of becoming the benefactor and sponsor of a series of projects aiming at the upgrade of the Acropolis Monument infrastructural facilities, with the lighting project being one of the most important.
V+O was the strategic communication consultant of the project.
Being one of our greatest challenges was to design and implement a high-caliber physical event to promote the official hand over of the lighting project, by Onassis Foundation to the Greek State, in the midst of the COVID-19 pandemic and respecting the restrictions imposed. We succeeded into creating a memorable phygital experience, to communicate the significance of the project and a message of optimism during pandemic.
Project Scope
The new illumination of the Acropolis Hill and its monuments had to be celebrated and communicated with a sense of optimism and with the utmost respect to our heritage, also securitizing the safety of our high-status guests.
Two (2) events took place simultaneously: we organized both the events and coordinated all involved parties, from plan to implementation
A ceremony for nine (9) high caliber guests at the Pnyka Hill overlooking the Acropolis Hill, which served as the official delivery of the project to the Greek State was organized
The ceremony involved an impressive lighting event visible to many locations across Athens, while a formal dinner was organized at a restaurant nearby the Acropolis Hill, during which our guests had the opportunity to watch live the ceremony taking place at the PNYKA Hill.
Additionally, the wider public was invited to view the event digitally, from the safety of their home, live streamed at the Onassis Foundation YouTube channel and the official Ministry of Culture and Sports website
As communication consultants, we were always alert-on for the publicity generated to the project, in order to promote and safeguard its significance
We designed all the comms material (statements, press releases, etc), we coordinated the video productions, we encouraged influencers' engagement to create stories related to the project (pre-during-post) and share their experience on their SoMe Accounts
Result
100% attendance with very high-caliber guests (incl. President of the Hellenic Republic, Prime Minister, Minister of Culture and Sports, among others)
400.000 video views
50.000 views of the livestreamed Ceremony
Media Publicity 1.093 clippings (Press, online, tv and radio, incl. international press)
Instagram Likes 30.941
Facebook & Twitter interactions 3.500
#acropolislights trending topic
sign up for our newsletter