Our People
Vassiliki
Peppa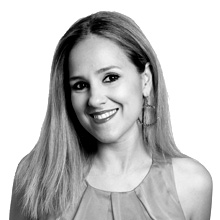 CREATIVE DIRECTOR - UNLIMITED GREECE
Vassiliki Peppa joined V+O in 2007 and she currently holds the position of Creative Director in Unlimited Creativity, an affiliate company of V+O.
She enjoys working on creative concepts, print design and communication projects and events. During her career at Unlimited Creativity she has worked for clients such as: Coca-Cola Hellas, Unilever Hellas, Beiersdorf, Carrefour, Fiat Group, Phillip Morris, Lamda Development, Cosmote, FBBank, Mitilinaios Group, GlaxoSmithKline.
From 2001 until 2005 she has worked for several advertising companies as art director and for Liberis Publications as creative media art director. In 2005 she created the advertising office Unlimited Creativity. Since 2007, Unlimited Creativity has joined the V+O Group.
She studied at Vakalo Art school in Athens and holds a B.A. in Graphic Design and Advertising from University of Derby. In 1996 she studied, for 2 years (biennio), Architectural Design at Università degli Studi di Firenze (Florence) – facoltà di Architettura.
She is an excellent user of Illustrator, QuarkXPress, Photoshop, In Design.
She speaks English, French and Italian.
To contact Vassiliki:
+30 210 72 49 000
sign up for our newsletter