November 28, 2018
Brandetector- a new B2B service by MINDHAUS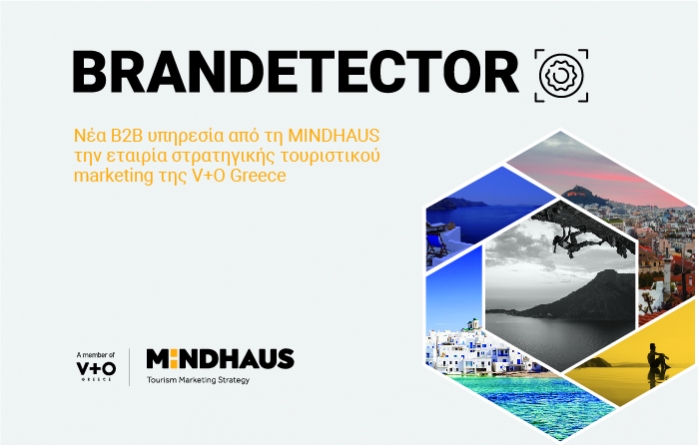 MINDHAUS, member of V+O Greece created Brandetector, a new service for analyzing, evaluating and enhancing the image of tourism destinations, organizations and businesses on a strategic, communication and product level.
Brandetector addresses the need for targeted and integrated brand development of a tourism business, organization or destination, taking into account visitor preferences, as well as competition's image and profile. By proposing a number of well-structured actions that improve overall brand experience, the specific tool can drive demand by helping a business, an organization or a destination distinguish itself from the clutter and become a more attractive choice to potential visitors.
Brandetector's innovative element to the tourism industry is that it combines, through a standardized methodology in a tailor-made way, primary qualitative research, social listening to the key markets of Greek tourism, research on the destination level and expert advisory on tourism marketing issues; communication and product. Comparing the characteristics of the tourism business (or organization) with benchmarks, the main competition and the identity of the destination, Brandetector generates valuable insights and results, leading to actionable proposals in key areas of improvement and diversification. The innovative tool addresses 4 * and 5 * hotels and resorts, either independent or branded, tourist attractions as well as destinations.
"In MINDHAUS we employ our strategic thinking, our creativity and our extensive sector experience to help tourism brands stand out. Specifically, we created Brandetector to assist tourism professionals to further develop their marketing & communication strategy, so as to increase visitor's satisfaction and eventually upgrade their brands' position in the market. It is a tool that strengthens a tourism brand's' USPs, improves the offering, extends its communication footprint and enhances the total brand experience", stated Theofilos Kyratsoulis, General Manager of MINDHAUS regarding the company's new service.
MINDHAUS is a strategic marketing agency for businesses and organizations in the wider tourism sector, and a member of the V + O Greece.
‹ BACK